Of all things I had expected to find on a beautiful Saturday morning, it certainly was not a leaking plastic bag of vomit and saltwater. Nor was it a plethora of items that the average Cebuano family can use in a day. All of which were up for grabs at the open sea.
It was early in the morning of December 5, amid the coastal activities of the Cebu Citywide Cleanup 2020, when our merry little band of four boats sailed away from South Road Properties to search for the last remaining coral reefs in Campanario Shoal.
---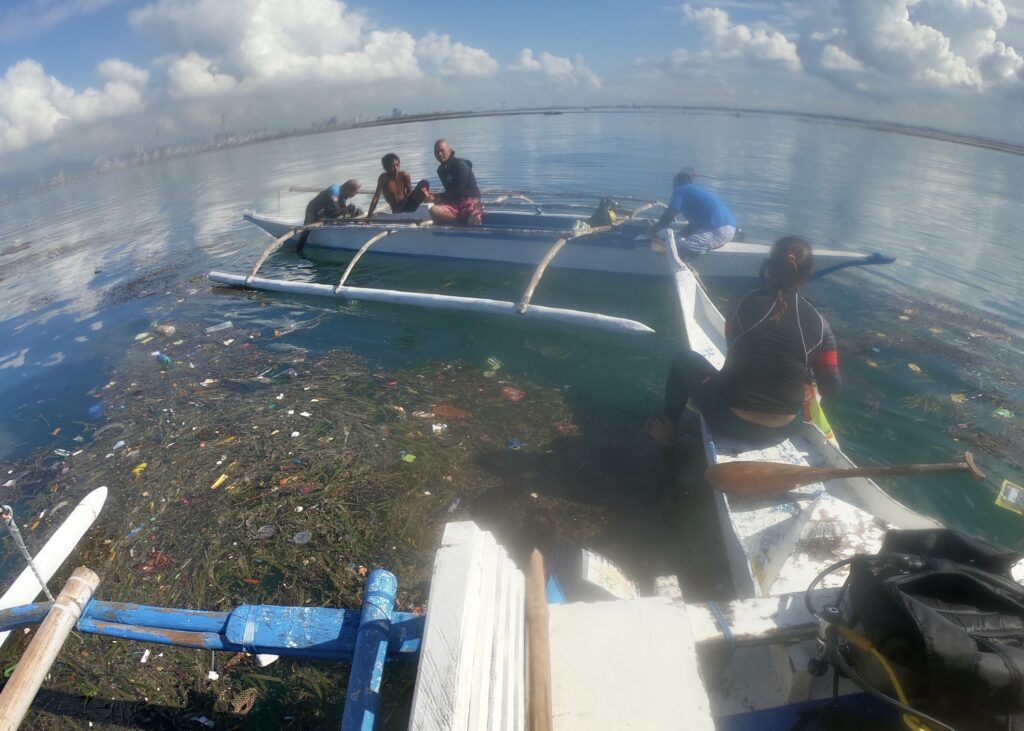 ---
Before then, its reality was not concrete. Like others who may have never heard of Campanario Shoal till it was mentioned in a recent post by Hon. Mayor Edgar Labella, I had been woefully ignorant of its presence in our waters.
Until a good friend and former journalist-professor, Karlon Rama, introduced it to me one day. This scuba diving enthusiast and Sea Knights volunteer had pointed to a dull outline of Campanario Shoal in the local NAMRIA map, sharing about a reconnaissance dive they were organizing in partnership with Cebu Technological University's Integrated Coastal Resources Management (CTU-ICRM) Center, the Philippine Coast Guard Cebu Office, and of course the Cebu City Government.
It was to be an offshoot of the citywide cleanup.
Campanario Shoal is located somewhere within the coast of South Road Properties. We know that SRP is a 300-hectare land reclamation area attached to the southern part of Cebu City.
---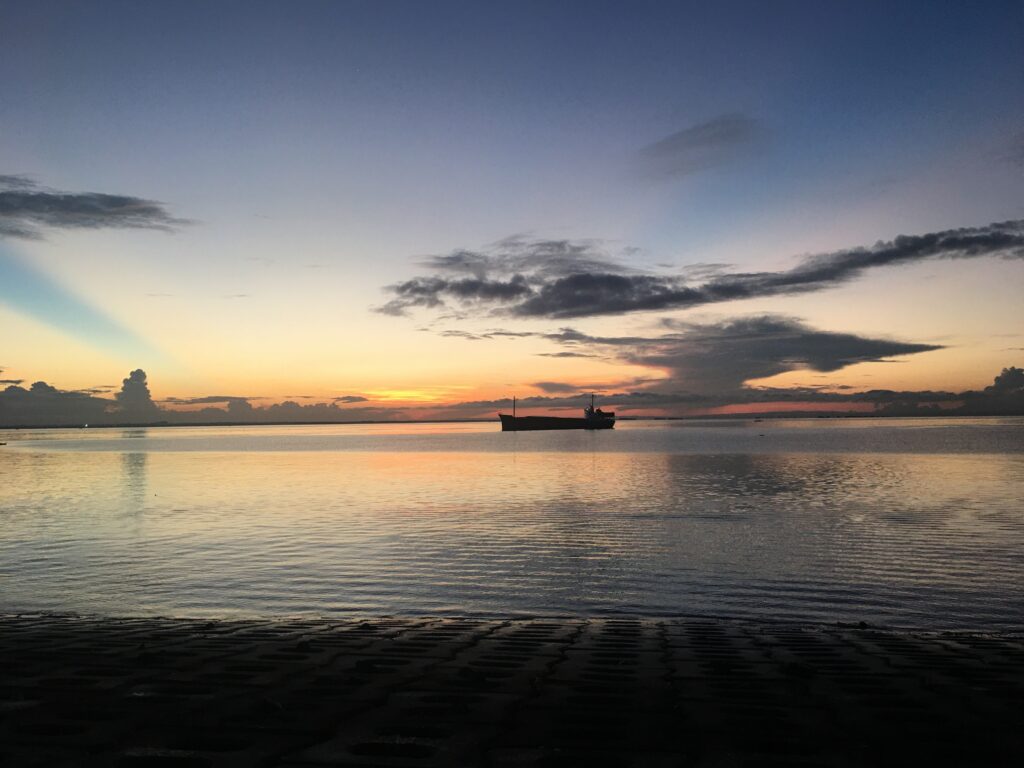 ---
Yet after all these years of progressive urban development – and now the ongoing construction of a third bridge connecting SRP to the Municipality of Cordova – did we know if corals exist at the shoal?
The National Mapping and Resource Information Authority is a line agency of DENR. One of their responsibilities is to map out data on our natural resources in the Philippines, such as the presence of coral reefs.
I confirmed in an interview with Lorenz Gideon Esmero, regional coordinator for the Coastal and Ecosystems Management Program of DENR-7, that not one of us could have known if there were corals in Campanario Shoal.
Esmero said the current satellite image from NAMRIA's control map shows there aren't any; the shoal appears to be brown and mud-like. And the reason for which became clear to us later on.
When the Bantay Dagat pump boat finally revved its engine and sped off from the bayside of Il Corso, our companions had sailed ahead. These were the Knight-Stewards of the Sea (also known as Sea Knights) – a faith-inspired scuba diving group advocating for ecological conservation – accompanied by the marine biologist from CTU-ICRM Center, Joed Caballero, and two divers from DENR-7 including Esmero. A Coast Guard team of divers were present as well.
Consider me a fish out of water whose admiration for the sea was quite shallow during the experience. Fascinated as I was by the beautiful, unpredictable patterns on the surface of the water, I hoped to never use the life vest that Sir Karlon had lent me.
The truth is that I may be able to swim in the metaphorical Unknown, but I was afraid of doing so in a deep body of water.
So when the Sea Knights boat anchored and the divers vanished from the surface, I remained with the Bantay Dagat crew and my companions. I was content to wait and crouch at the side of our boat to reach for lumps of garbage floating our way. This was how I came to hold that leaking plastic bag of diluted vomit.
It was funny enough when three companions who had jumped overboard to swim for the trash collected things that could prepare a disgusting kitchen meal or feed a baby. So did a few men from the coast guard patrol boat. Suffice to say, discarded diapers were one of the worst things for them to grab.
---
---
Meanwhile, unaware of our filthy pleasures at the surface just as we had been toward their underwater experience, the scuba divers reached three different areas of Campanario Shoal in drops of 50 feet, 36 feet, and 18 feet.
The first thing they saw in the depths of the sea was silt, and it caused them poor visibility. They had to be careful not to disturb the water too much or it could get worse.
For dummies like me who are unfamiliar with silt, it is dust-like sediment in the water that is a result of rock erosion, land reclamation, or poorly planned construction and coastal developments. Siltation reduces light available underwater and smothers any reef organisms on the seabed, affecting the growth of corals and seagrass.
No wonder the NAMRIA control map showed zero corals. Open-source satellites that NAMRIA uses determine landscape based on color. Naturally, the layer of siltation appears brown.
Further on the divers noticed some plastic buried in silt, debris, and a broken television that was too heavy to remove at the time.
Most difficult to miss at a glance was the huge (and creepy) ghostnet spanning the center of the shoal outcropping they hovered. It was probably lost or discarded a decade ago, judging from the brittleness.
---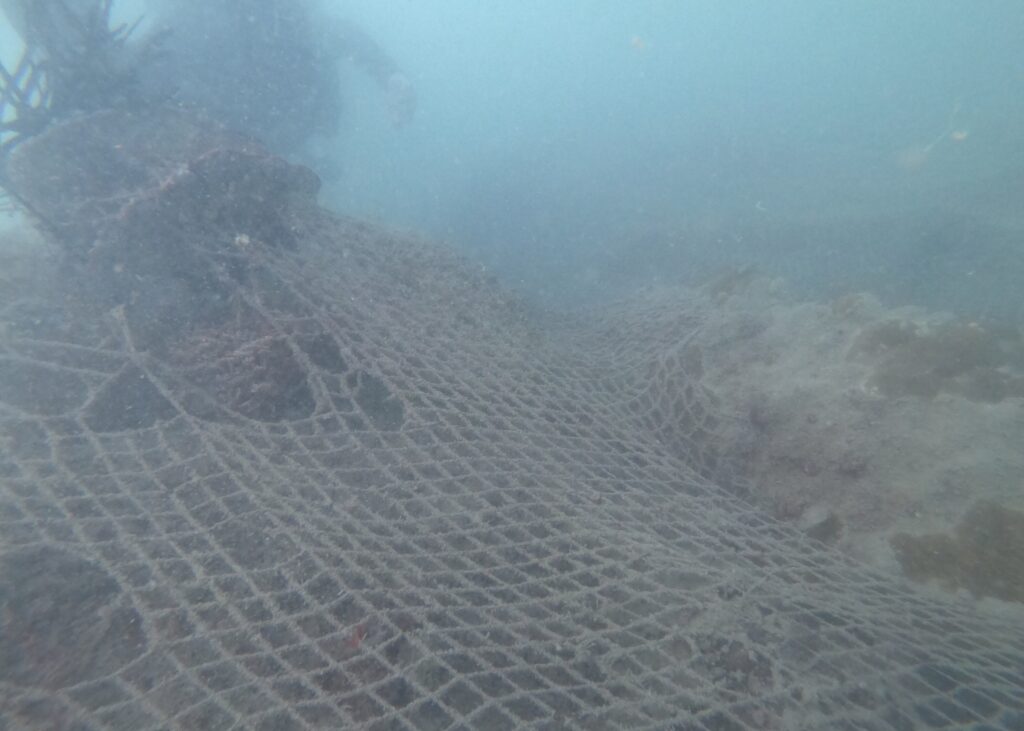 ---
But they could not simply yank it from the seabed during the exploratory dive because there was something they wanted to protect:
Coral recruits! A few species of them have managed to survive the siltation and were able to thrive at Campanario Shoal. It's incredible, really, considering that the area is also part of a navigational lane and prone to pollution discharge from passing ships.
New coral recruits are growing, too, especially along the 50 feet drop by the ledge. When these form a colony and grow in number and size, it results to the visible reef structures we know as coral reefs.
---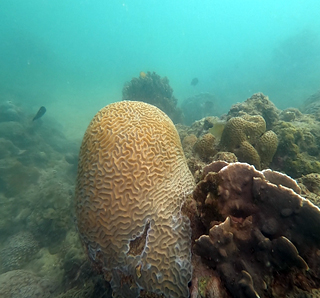 The ghostnet that our divers found lay on top of small coral colonies.
It would have to be carefully cut out from the parts it occupied so that the coral recruits will not break.
This takes time and resources that can be achieved in another dive.
I was able to tag along as the Sea Knights exchanged first-hand impressions from the reconnaissance dive, once they were back at their humble headquarters in Talisay City.
It was interesting to listen to them paint the underwater world under a hut by the beachfront, while cats and dogs frolicked in the sand and the scent of batchoy graced the air.
What was once a dull outline to me, on a map I'd never even seen before, slowly breathed into life as they brought its sights to the surface.
---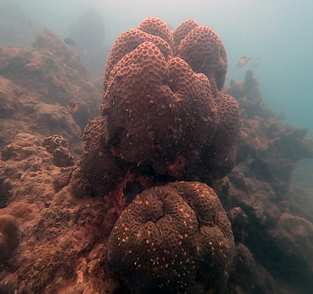 Their various and rather opposing visuals from one area to another gave me the impression that the growth of coral recruits in Campanario Shoal is disjointed.
One part does not speak for the rest of its expanse.
Thus, the promising result of their dive tells us that much remains to be seen – and done – so as to make a better whole.
Moving forward, marine biologist Joed Caballero said that Campanario Shoal needs rehabilitation and that new coral recruits could be preserved.
They will need to further study the water parameters and the adapting coral species, so that the process of rehabilitation can be implemented well.
Indeed, just a day before the reconnaissance dive, I was at "Kapihan sa Sugbo" listening to CTU-ICRM Center Director Dr. Raamah Rosales give an example of rehabilitation gone wrong: the Bilar Man-made Forest in Loboc, Bohol.
---
This turned out to be an ecological disaster because the trees planted were not native to the area and did not fit parameters.
Animals cannot thrive in that man-made forest like they would in a natural ecosystem because it is cytotoxic.
We do not want the same thing to happen to what is left of our coral reefs in Cebu City.
What we hope to build is a marine sanctuary that can thrive in the generations to come. Our ecosystem is connected and what happens on land will ripple out to life at the bottom of the sea.
Even man-made things that have no business in the water settle there until people bother to remove them.
---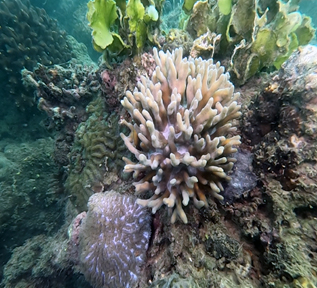 I feel relieved that the reconnaissance effort happened because small strokes such as this can make a wave. And what kind of wave it creates is up to us.
In the end, no one organization or person can work on things alone.
Our one small step for Cebu City has been a joint effort and so it must remain if we are to reach a better outcome.
DENR-7 is going to record and classify the waste they found on the seabed. NAMRIA is set to update its control map this year.
CTU-ICRM Center and the Knight-Stewards of the Sea are consolidating what they found so that recommendations can be made.
PENRO, DENR-7's Provincial Environment and Natural Resources Office, has had no data either and can benefit from this. The Cebu City Government has expressed its support.
But what do we really know? As far as the reconnaissance dive is concerned, we have barely dipped our toes in the water.
---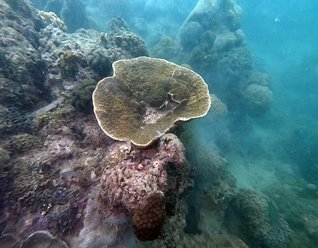 As of this writing, organizers of the citywide cleanup continue to tally tons of trash.
And while they do this the same kinds of trash are being produced, discarded again where they have just been cleaned.
In the next quarter, volunteers will find the same things all over and the cycle goes on.
Except, this time, something else was found. Something else happened from which something better could spring. And maybe, just maybe, my own awakening could be a reflection of the enlightenment Cebu City needs.