November 17 last year fell on a Sunday.
And an hour past daybreak on that day found me along an already busy public beach in Poblacion, Talisay City, munching on kamote and grilled squid while sitting elbow-to-elbow with others on a wooden bench facing a table of bamboo slats and waiting for directions.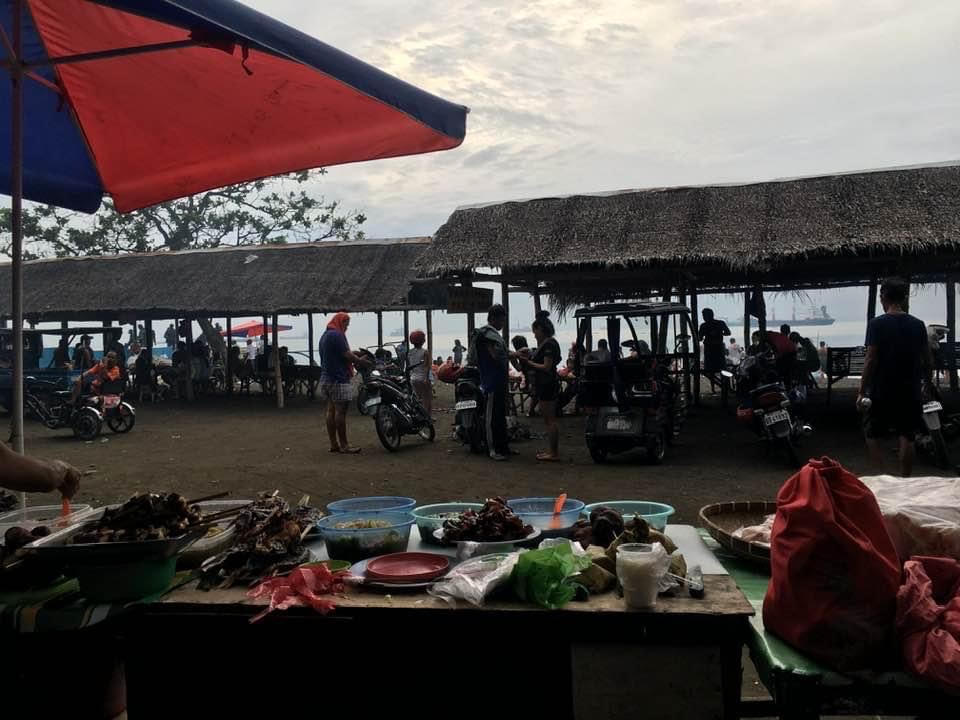 Scores of others were similarly situated in other tables. A few more were lining up for their por-kilo slice of lechon, others for their putos of balbacua, or kinilaw nga isda, or guso, or baat; while others still for their sticks of barbecue and sinugba, and whatnot.
The whole place had a fiesta slash tabo vibe that should be familiar to everyone from a small town by the coast on a Sunday morning.
And on the last sweet potato came directions via SMS from an absent guide. I was to proceed a stone's throw from the maddening throng to a nondescript two-story house of concrete and wood that had its own walkway towards the sea.
This was the place and I would have passed it had it not been for scuba tanks that were lined along the walkway, plus seven men in rash-guards and board shorts sharing puto-maya and sikwate.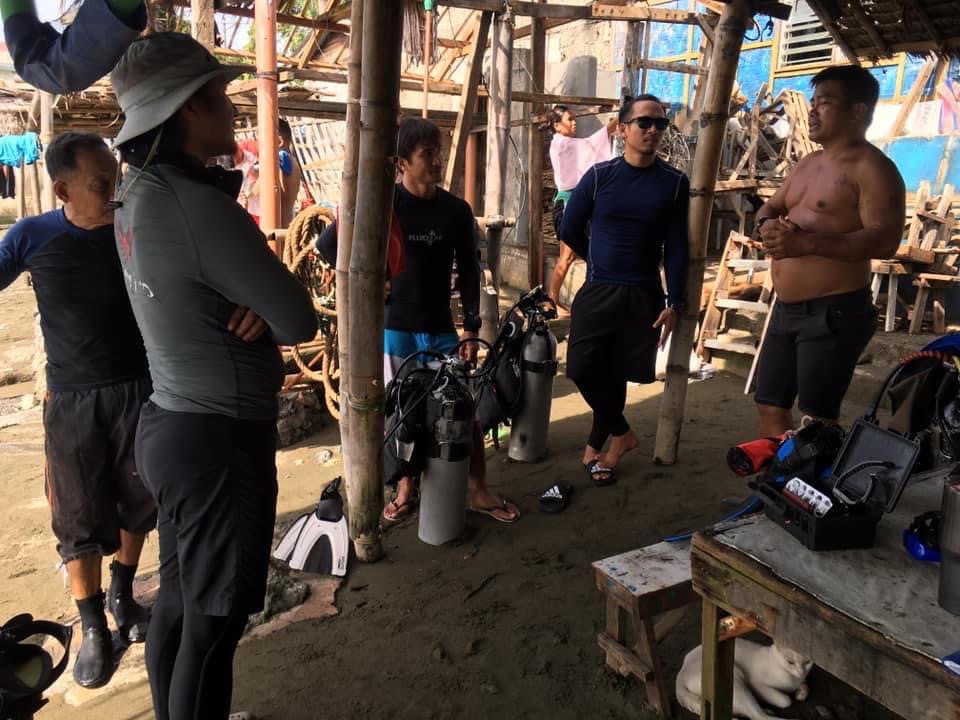 The house is owned by the Fernandez family.
And, on Sundays, it doubles as a meeting point of the Knight Stewards of the Sea, Inc., a non-government organization engaged in reef conservation in the seven reef structures of Talisay City: the Bogo and the Osteng shoals, and the Lagundi, Pungaton, Makatol, Takot Trese, and Mongos-mongos reefs.
I had read about them online and wanted to volunteer. It was why I was there.
Meeting Sea Knights
Volunteers and members alike refer to themselves as Sea Knights and somehow communicate that they are a loose tribe of scuba divers who dedicate their Sunday mornings to do underwater cleanups wherever.
Organizationally, though, it is a group of about 20 friends who, in 2008, registered themselves as a Non-Government Organization with the Securities and Exchange Commission, thereby acquiring a juridical identity to enter agreements, sue, and be sued.
It identifies itself as a "faith-inspired" – the group was co-founded by Archdiocesan, Augustinian, and Recollect priests and actively supports the Cebu Archdiocesan Commission on Environmental Concerns — "service organization committed to the sustainable use of coastal resources through responsible communities."
It aims to achieve its commitments by helping local government units establish marine protected areas and, with the help of its scores of volunteers, conducting activities that enable reef structures to thrive.
Every year, in accordance with its by-laws, the NGO's 20 or so members elect 10 people who then vote to constitute themselves into an executive committee and a policy-setting board. The constituted board then meets once a month to discuss activities, address invitations for reef checks, and plan activities for the reefs of Talisay City, where they are an accredited partner for Coastal Resource Management.
Specific to Talisay City, the organization works with the Committee on Environment and the Committee on Tourism. They render an accomplishment report to the City Council every year, and a representative sits in the regular meetings of the Talisay City Development Council.
Sea Knights in the Media
Having existed for many years, the Sea Knights have figured prominently in many media articles, including the October 18, 2010 installation of a 14-foot, four-ton statute of the Blessed Virgin 40 meters below sea level off the coast of Bien Unido, Bohol.
TV networks have also featured the cleanup activities of volunteers and members, including its participation in the most recent International Coastal Cleanup.
More recently though, the group figured in the news when three members took part in a dive in Alcoy, Cebu, and came out with a report bearing the organization's name. But that's for another story another time.
Suffice to say that most of the group's work is done quietly, without fanfare, and without any external financial support.
In 2019, members and volunteers did a total of 45 dives in Talisay City to perform reef-management related activities in five of the seven reef structures unbeknownst to most people.
Of the 45 dives, 20 dives were dedicated to the removal of derelict ghostnets and abandoned fishing lines. Nine dives were to conduct reef checks, which resulted in six additional dives done to remove coral-devouring Crown of Thorns starfishes (Acanthaster planci), or simply CoTs.
Another five dives involved the retrieval, fragmenting, and replanting of corals on a portion of the Bogo Shoal that was reduced to rubble following the 2009 grounding of the MV Majuro. The reef was misidentified as the Lagundi Reef at that time.
The other activities survey dives, mop-up dives, the installation of float markers, locating and raising mooring buoys – comprise the rest of the efforts of the volunteers.
I left my heart in the Bogo Shoal
Most of the underwater activities – 22 dives for the year – were held at the Bogo Shoal.
Nine of the dives in Bogo Shoal targeted ghostnets or derelict pamo (short for pamukot or fishnets), which are inimical to the growth of corals and the creatures that depend on the coral structures for food and reproduction and four were to respond to a rise in CoT numbers.
The organization deems it critical to control the number of CoTs in the area, given the abrupt loss of roughly 10 percent of its coral concentration following the 2009 Majuro incident. The intervention to re-grow surviving coral fragments only began in earnest in 2018
The rest of the dives in Bogo Shoal involve the installation of float markers and mooring buoys, done under the auspices of the City Council's Committee on Environment, and in line with the Marine Protected Area status of Bogo Shoal.
The November 17, 2019 dive was one of these MPA-maintenance activities.
After walking in and unabashedly announcing myself as wanting to volunteer, the man I would later know as Sea Knights co-founder Alfie Fernandez matter-of-factly told me where I could get a tank, to go along with the rest of my gear.
I brought a complete set of kit with me that day, including a wet suit that, unbeknownst to be at that time, had singled me out to be a noob. As it turned out, I could have arrived in my birthday suit and still be able to dive because Coach Alfie, who is a CMAS dive instructor, lets people use his gear for free so long as they volunteer.
After I finished rigging my gear, he then led us to an adjacent lot where a blue and blue and white fiberglass dinghy had been beached. We helped carry, push, and shove the dinghy into the water, and then put all our gear aboard. A motor was then bought out and attached to the dinghy's transom and off we went.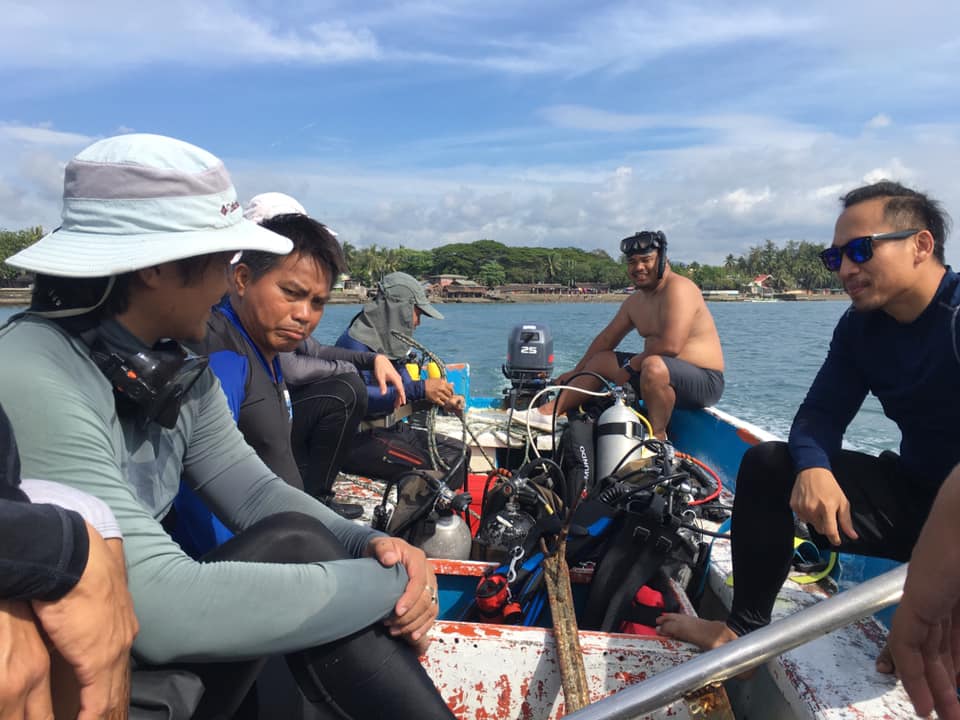 Our task, we were briefed, was to get to Bogo Shoal, hit the water, and then locate and re-establish as many as we could of the four anchor lines that the group had set up years ago but had since been either cut by illegal fishers or just sunk by time and tide. The lines were crucial, Coach Alfie explained, because they would be the attachment point for marking buoys that would establish the perimeter of the MPA.
Two anchor lines were located and resurfaced, with amazing skill on the part of the other divers, on that single dive.
It was marvelous to behold, the underwater ballet that occurred. I vowed to return the following weekend, and the weekend after that, and the next weekend thereafter. And I'm still coming.